The Art of Mixing by Francis Gazeau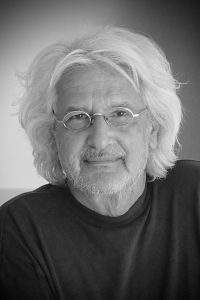 Traveling in all latitudes, Francis Gazeau collects materials, silhouettes or landscapes, then, on the light table, he interweaves them in a unique art of mixing. All the cultures and countries he has passed through are brought together.
By setting aside any documental value of the photography and by wrapping it in texture effects, Francis Gazeau creates an unknown, fantastic universe where plants, faces and minerals overlap. He turns out to be an artist of nature.
During the first creative phase, he remains a craftsman who refuses any processing of the image by the computer. His particular sensitivity captures a moment of life to freeze it in a material sometimes close to a rock painting. Erasing the distance from photography by the proximity of detail and texture, he unites the work of the hand with that of the eye; only the matter comes to retouch the photographic image.
Videos
Main exhibitions
2020
Exhibition of the nomadic gallery in the NUI space in Ibiza
October 2010 to 2018
Creation of a photography-editing-filming workshop, Balearic Islands
January 2009
Exhibition at the Museum of European and Mediterranean Civilizations in Marseille (MUCEM)
June 2008
Exhibition in Marseille at the Old Port
May 2007
Exhibition at United Nations Headquarters in New York (UN)
April 2007
Exhibition at Galerie Modus Place des Vosges in Paris
November 2006
Exhibition at the United Nations Palace in Geneva (UN)
June 2006
Exhibition on the Pont des Arts in Paris
November 2005
Exhibition at Unesco Paris
January 2005
Exhibition at the European Parliament in Strasbourg
November 2004
Exhibition at the Palais de Tokyo in Paris (coll.)
September 2003
Exhibition at the Anne Moerchen gallery in Hamburg
May 2003
« Terre d'Images » exhibition in Biarritz
February 2002
Exhibition at the Espace des Créateurs at the Forum des Halles in Paris
May 2001
Opera Gallery exhibition, rue St. Honoré in Paris
April 2001
Opera Gallery exhibition, Spring Street in New York
February 2000
"Le Maroc" exhibition at the Institut du Monde Arabe in Paris (IMA)
May 1999
Exhibition at the Mois Bis de la Photo at the Nesle gallery in Paris (coll.)
June 1998
Exhibition « Les Migrateurs », rue Jacob in Paris
Francis Gazeau is listed at the National Library of France under number N° EP-4545.